12-1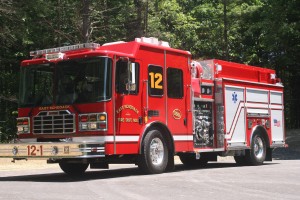 2011 Ferrara Ember custom fire chassis
First Due Truck for all Structure Fires, Car Fires
Cummins ISL-400 with Allison 3000EVS
Ember extended medium cab with 12″ raised roof
 Seating for 6
Firecom intercom system, Safety Vision backing camera
Hard suction and ladders stored between tank and high sides
Hale QMAX 1500 GPM
Triple crosslays, Right side LDH discharge, Deck gun discharge with Akron 3423 monitor, FoamPro 1600 Class A injection foam system
Tank: 1000 gallon poly water tank; 20 gallon integral foam cell
Whelen LED warning lights
Wil-burt 6,000 watt night scan light tower
Whelen LED Scenelights
Whelen LED brow light
Federal EQ2B siren
Harrison 8kW hydraulic generator
2 Fire Research 750W tripod lights
Hannay electric rewind cord reel
12-7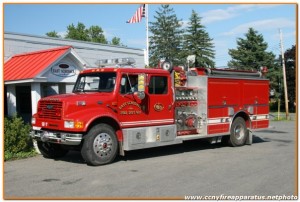 1994 International/Luverne  4 man cab
1250GPM 1000 Gal tank
Third due to structure fires, Water Supply, and goes to all Stand-Bys, and Mutual Aid Fires
Carries 1200′ of 4″ hose 4 1 3/4″preconnected hand lines
Also Carries 2100 gal Fold-A-Tank
400 GPM floating portable pump
500 GPM portable pumps
ER-12    (Engine Rescue)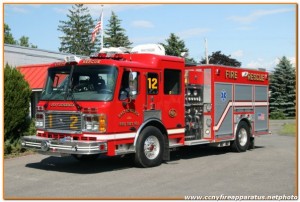 2006 American LaFrance Eagle 6 Man Cab
SE 1500 GPM/1000 Gal tank
Second Due Truck for all structure fires, also goes to all mutual fire, first due to all rescues and traffic accidents
 Carries 1200′ 4″ hose Three preconnected 1 3/4″ hand lines
Two Holmatro power units, one electric (mounted) and one gas (portable)
Also a Holmatro spreader, cutter, combo tool, and two rams
 a 15kw Onan hydraulic generator
Wil-burt 6,000 watt night scan light tower
1,000 watt brow light
Two-750 watt scene lights
Two-750watt tripod lights
FR-12    (First Response)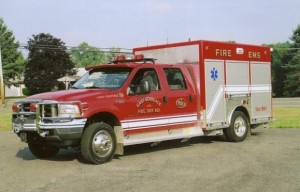 2002 Ford F-550/Marion 5 Man Cab
Handles All EMS calls, traffic accidents, and rescues
Carries all BLS EMS supplies
Also equipped with a 10kw hydraulic generator
3,000 watt Command light tower
Two-750 watt scene lights
Two-750 watt tripod lights
Utility-12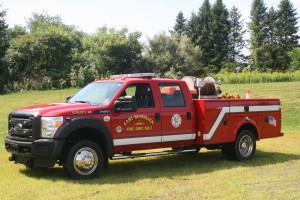 2015 Ford F-450 Crew Cab with a Knapeide service body and a Fisher stainless steel V plow.

Responds to all Grass fires, traffic accidents, wires down, pump outs, and tows the boat and ATV trailers.

200 Gallon slide in unit with a 65 gpm pump and 200' booster reel.

200' of 1" forestry hose and 150' of 1 ½" hose.

Collapsible Indian tanks, brooms, rakes, shovels, and 2 chain saws.

Whelen LED warning and scene lighting.

Back up EMS equipment.
ATV-12
2005 Polaris Ranger 4×4
Responds to grass fires, searches or any call that requires off road response
Unit is capable of carrying a stokes basket for off road rescues
Newest addition is the capablility of holding water.  The ATV now can carry 55 gallons of water equiped with its own pump for responding to brush fires
Boat-12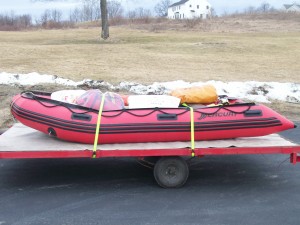 2004 Mercury 12'6″ inflatable boat with a 25 horsepower outboard Mercury engine
Responds to any water emergency or ice rescue
Unit carries water rescue equipment in warm weather and ice rescue equipment in cold